We at Bunnyfoot complete a lot of user tests on a day to day basis, many of us having years, and some, even centuries of experience in moderating user testing sessions. With each of us adopting our own unique ways of note taking, I want to share with you our top tips and tricks to get the most out of your notes when running a session.

Before I get started, there is no there are no right or wrong ways of note taking and if you are new to the field I would encourage you to try a number of them until you find the one that works for you.
Hand written notes
This is the preferred method by almost all of the consultants within Bunnyfoot.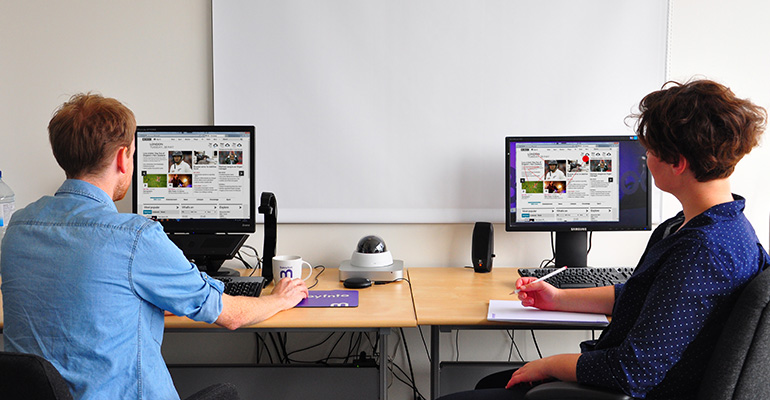 Pros:
Paper note taking is more personal that electronic note taking as you can maintain eye contact with the participant while still capturing what you have just observed or a quote from the participant
Participant can't see when you're making notes or what notes you are making, be sure to take your notes with you if you leave the lab at any point as participant's eyes can always wonder!
Paper note taking allows you to be very flexible, you can jump to specific tasks if an opportunity arises. You can easily and effortlessly capture notes and comments that you hadn't anticipated
Cons:
It can be difficult to decipher handwriting (even your own), which can result in requiring more time for the write up
The write-up and analysis generally takes longer, transposing your written notes to a digital summary
Paper notes are difficult to share and search through for insights, however this can be made more efficient through the use of 'data logging'
Data logging
'Data logging' or 'Coding' is a simple short hand 'code' which you can use as you conduct the usability sessions, you should note down your observations of the participants' behaviour using a code to help distinguish them and stand out from the rest of the insights. Data logging is a kind of shorthand developed by students of animal and human behaviour.
Below are some of the codes that we use when note taking, in usability testing sessions:
I – Usability problem, can lead to confusion, error, delay or outfight failure to complete some tasks.
G – Positive finding, something that test participants liked about the user experience or that clearly helped them in succeeding in their goal.
" " – quote from a participant to help bring evidence to the finding.
15:55  – Timestamps for video clips
– Idea from the participant or moderator
Other data logging codes:
[table id=3 /]
[table id=4 /]
Post-it notes
These generally used in the observation room rather than the during the moderation session itself but I have heard and read of other consultants using this approach.
Post-it notes are useful, being small, they limit how much you can write on each one. We tend to try to only write 1 thing per post-it note
Post-it notes are really good for affinity mapping at the end of the session as you can easily move them around and categorise them into logical groupings (e.g. section of the service or problem)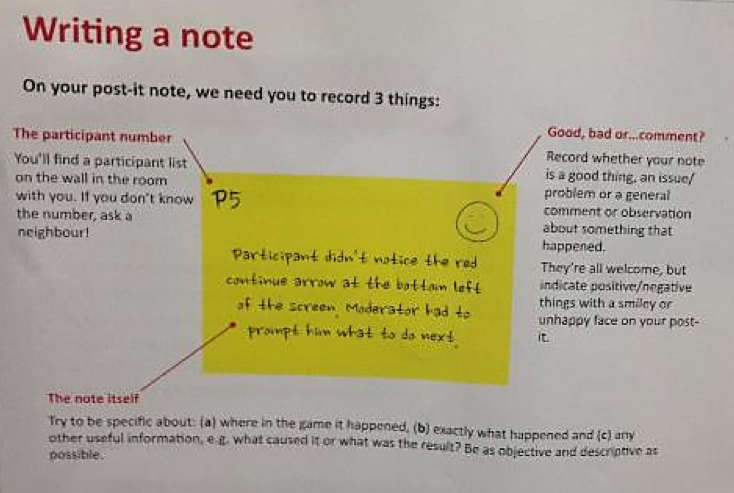 Paper note taking tips and tricks:
For prototype testing or more limited testing (when there are only so many pages that the participant can or is likely to access) take notes taking directly onto screen shots of key pages
Write in expected or anticipated behaviours within your protocol. If you see the participant exhibit the behaviour you can just tick alongside it or circle it, rather than have to write it out in full
Write the main takeaways from each participant at the very front of the discussion guide at the end of each session (before you forget it all)
Ask the team in the observation room to write down their top 3 findings from each of the participants. This is also a useful way to gather the teams/clients view on what they are seeing in the sessions
Electronic note taking
Very few of the Bunnyfoot team use electronic note taking during the user testing sessions due to the cons listed below, however electronic note taking is a method often used by a separate note taker in the observation room.
Pros:
Ease of legibility of notes taken, no need to decipher the squiggles!
Ease of sharing the results across teams.
Increase the speed of the write-up as the data can be easily mined, filtered and sorted to help analysis. In quick turn-around projects the note taking sheet can become the output.
Easier to view the whole sample's response to some questions.
Ease of storage.
Cons:
The laptop can become a barrier between you and the participant making it feel very impersonal.
More difficult to maintain eye contact with the participant, unless you can touch type!
The sound of your typing can be a distraction during the session itself.
The participant can hear when you're making notes, this can influence the feedback that they provide as they can 'see/hear' when they are saying something of interest and also when they are not.
Note taking is just one important part of usability testing, if you want to learn more about how to run effective research sessions, we run regular training courses that can set you on the right path.
Want to learn more?